Credit
I recently watched an episode of Netflix's Black Mirror where characters use an eye-embedded app to rate social interactions on a five-star scale.
These scores establish each characters' place in society, their jobs, and provide or deny access to high-end communities, reliable rental cars, or a seat on a sold-out flight.
When Lacie, the main character, learns she needs to boost her score for a 20% discount on rent in a coveted, high-end community, she meets with a professional for advice. As can be expected, Lacie's plans go horribly wrong and a series of mishaps cause her score to plummet.
Although this episode is meant to be satire—a cautionary tale on the dangers of modern app rating systems—it's also a painful reminder of our own credit system.
Even small missteps like a missed payment or errors on our credit reports can have a huge impact. A low credit score can make it difficult to buy a home, rent an affordable apartment, purchase a car, or consolidate debt.
In fact, per the Fair Credit Reporting Act, all of the following credit inquiries are allowed:
Satisfying a federal court order or subpoena
Financial institution completing a credit application for a loan
Utility companies
Insurance underwriters
Government agencies for certain licenses or government benefits
Landlords
Potential Investors
Current creditors for collections efforts
Child support enforcement
Prospective employers (only with your written consent)
Pretty nerve-wracking, huh?
These are reasons I've prioritized my credit score over the past few years.
And recently, I passed the 800 mark!
Are you ready to start improving your credit score? Try these proven tactics.
Disclosure: This post may contain affiliate links.
Monitor Your Credit Score Regularly
Although there are dozens of paid services available for monitoring your credit score, many banks are now offering this for free. This includes credit card companies like Citibank, Barclaycard, Chase, and more.
Have you checked to see if your credit card offers free access?
The best place to get your credit report for free is through AnnualCreditReport.com. You can access your free report from all three of the credit reporting agencies—Experian, TransUnion, and Equifax—every twelve months.
To stay informed between annual updates, you can monitor a summary of your TransUnion credit report for free through Credit Sesame.

Here is what my main dashboard looks like:
I keep track of my FICO score and watch the individual bureaus for errors.
Dispute Errors on Your Credit Reports
Your credit report impacts everything from paying off debt to applying for a job. But, unfortunately, errors happen more often than you might expect.
One in four people have errors on their credit reports.
Pretty scary, right?

If you discover an error, don't panic.
You can easily submit a dispute to any of the three credit reporting agencies.
It's best to submit a dispute both online and in writing, and keep a record of all communications. You will need to provide as much detail as possible. Include copies (not originals) of the documentation that supports your dispute.
Here is a sample credit report dispute letter.
The credit reporting agencies are required to respond within 30 days.
How Your Credit Score is Calculated
Do you know exactly how a credit score is calculated?
Here's how FICO breaks it down:
35% – Payment History
30% – Total Debt / Utilization
15% – Length of Payment History
10% – New Credit Inquiries
10% – Credit Mix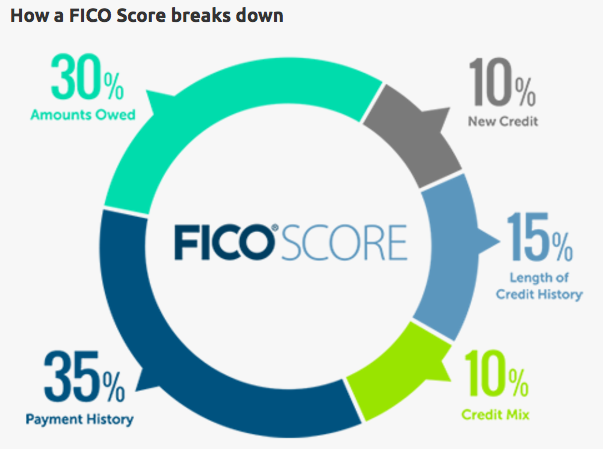 Payment History – How often have you paid your bills (past credit accounts) on time?
Total Debt / Utilization – What is your current amount of debt? How does your current credit card debt compare to your total available credit line? This is determined by looking at your statement balances.
Length of Payment History – What is the age of your oldest account, your newest account, and the average age of all your accounts? Generally, a longer credit history increases your score.
New Credit Inquiries – Opening a lot of new credit accounts in a short period of time sends a red flag to credit reporting agencies. This can be especially harmful if you don't have a long credit history.
Credit Mix – What types of credit accounts do you have? This may include credit cards, student loans, personal loans, mortgages, etc.
How I Boosted My Credit Score Above 800
No missed payments. A history of on-time payments is 35% of your FICO score. If you have missed even a single payment, prioritize adding positive information back into your credit history. Set reminders in your calendar or automate your payments.
Low total debt and utilization. These two factors impact 30% of your FICO score. Currently, my only debt is my mortgage. I pay off my credit cards on time and in full every month, and I never spend more than 10% of the combined limit.
Here is a screen shot from Credit Sesame. Last month, my utilization was 3%. I have two credit cards I use on a regular basis (personal & business).
The other two cards only serve as tools for boosting my credit history and utilization. I make one small charge on each per month and pay them off once I have received the bill.
Long credit history. Your length of credit history is 15% of your credit score. Even though I don't use my oldest card on a daily basis, I keep the account active by making one small charge per month.
Account mix. You may have noticed account mix is the weakest area of my credit. Because it's only 10% of my overall credit score, I don't focus on it. A history of on time payments and total debt / utilization are much more important (65% of your total score).
Your credit score impacts many areas of your life. But even if you have had blemishes in the past, it's never too late to make improvements. By adding positive information back into your credit history, your negative marks will matter less over time.
Readers: Are you happy with your credit score?
If not, how are you working to improve it?